The All Terrain 2022 Ford Bronco Sport
If you enjoy off-roading, traveling on the open road, or just exploring the world around you, you need a vehicle that can get you where you need to go without question. If you love sporty vehicles and want the protection and off-road abilities necessary for any terrain, consider a 2022 Ford Bronco Sport. The 2022 Ford Bronco Sport not only looks sleek, modern, and updated, but it also has the power and strength to back it up.
The Vehicle Built for Roaming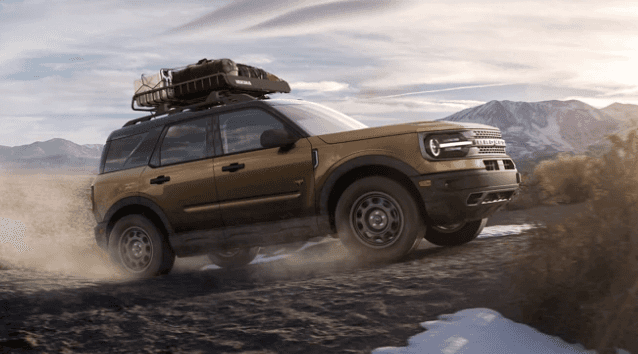 If you have a thirst for exploring the world around you and taking it by storm, you will need a vehicle you can count on and trust. The 2022 Ford Bronco Sport was not only built for any terrain that may be encountered, but it was also built with the latest and greatest technologies in mind.
The 2022 Ford Bronco Sport includes a high-performance, off-road, stability, and suspension system, also known as HOSS, to help ensure each ride you take in your 2022 Bronco Sport is a smooth and enjoyable one.
Technical Features
With the new 2022 Ford Bronco Sport, not only will you be able to take advantage of significant power, but also plenty of technical features that help this year's make truly stand out.
G.O.A.T. Modes
Whether you're heading out for a brand new adventure or traversing through tumultuous terrain, the Bronco Sport includes a built-in Terrain Management System that includes five terrain modes, ranging from sand and slipper to sport, eco, and normal.
Keep an Eye on Your Surroundings
Driving the 2022 Ford Bronco not only gives you plenty of horsepower and torque, but also the ability to keep a watchful eye on the environment around you at all times. Included with the 2022 Bronco is a 180-degree camera to provide you with even more protection whenever you are on the road.
Wireless & Syncing Capabilities
Included with the 2022 Ford Bronco is SYNC 3 for all of your syncing needs as well as a wireless charging pad. A B&O Bang & Olufsen sound system is also included for music lovers.
Breadcrumb Navigation Features
If you love to explore new locations and even those without standard roads, you can do so easier than ever in the 2022 Ford  Bronco. The 2022 Bronco includes the ability to drop virtual breadcrumbs using the built-in Bronco GPS system. With the GPS system, share your location at any time.
The built-in GPS navigation system will also remember where you have driven in the past, which can be extremely helpful for those who enjoy traversing unknown lands and terrain without markers.
Additional Features
Some of the additional features of the 2022 Ford Bronco include: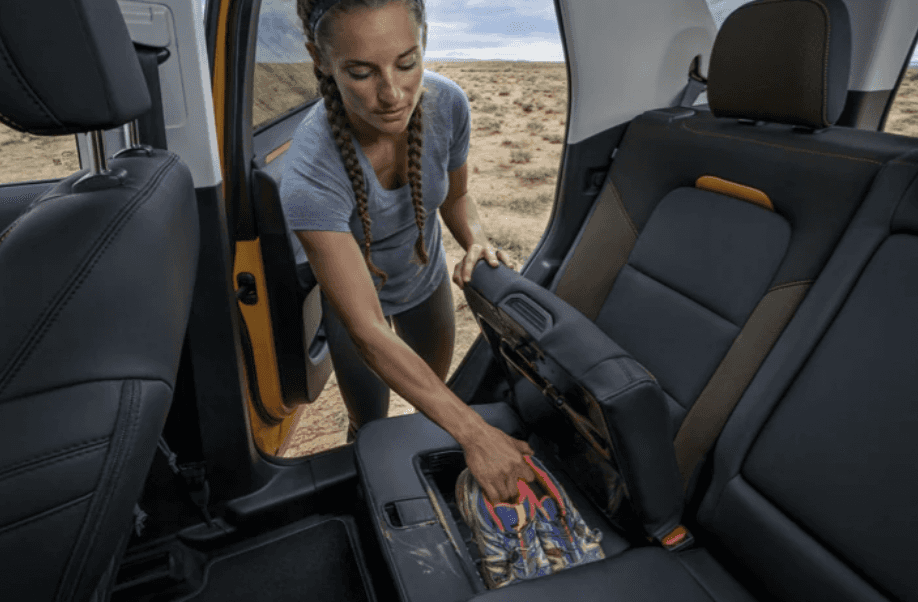 Seating for up to 5
65.2 cubic feet of cargo space
GOAT driving modes (Goes Over Any Type of Terrain): Normal, Eco, Sport, Sand, and Slippery for total control while driving in any climate and on any terrain.
4×4 capability to help provide additional traction, power, and speed when you need it most
Ford Trail Control is also built-in with the 2022 Ford Bronco Sport, providing total control over setting your cruise control speed while you are on the road. You can also set your speed when driving off-road to focus on handling the terrain and potential obstacles in front of you as a top priority.
Water Fording: With the Bronco Sport Badlands model, you will have up to 23.6 inches of water-fording capability, allowing you to trek into deeper puddles and areas of water with ease and without risking the electronics inside of your truck.
Ground clearance: Additionally, the 2022 Ford Bronco Sport Badlands model also includes optional all-terrain off-road tires that have a ground clearance of approximately 8.8 inches in total, providing more room for rockier and trickier terrain.
Are you ready to take your all-terrain adventures to the next level? Are you living in or around Orlando, Florida? Get out on the road in style with the 2022 Ford Bronco Sport. When you're ready to take the next step, Greenway Ford is ready to help. Contact Greenway Ford to discover more about the 2022 Ford Bronco Sport and to choose the Bronco that is right for you today.