A Glance At The NEW 2022 Ford Explorer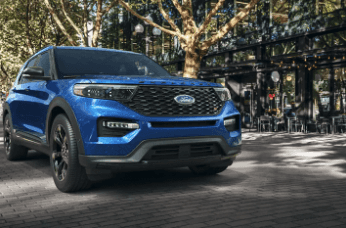 The experience of traveling with your family is greatly impacted by your chosen mode of transportation. If your chosen vehicle is uncomfortable, you will probably hear more than a few complaints coming from your family. Make family road trips more enjoyable by picking the right vehicle for the job. The 2022 Ford Explorer certainly has a case to be considered as that vehicle. Among the standout features of the new Ford Explorer are its seats. The Ford Explorer's Active Motion seats feature back massage settings. You can activate the seats and enjoy soothing massages for your upper or lower back. Select whichever setting you need for the problem that is specifically affecting you. Beyond the fact that they can massage you, the Action Motion seats are also great because of how they are designed. They are carefully contoured to adhere to the body so you can ease into your seat for the duration of your drive.
The new Ford Explorer is also a roomy SUV. With all the seats positioned upright, this vehicle can hold up to seven passengers. Everyone should be able to get seated comfortably inside this vehicle. If you need more cargo room, you can always fold some of the seats and instantly create more space. Visit your local dealership and get a firsthand look at how the 2022 Ford Explorer can accommodate your family. Discover just how comfortable it truly is and give it serious consideration if you're looking for a new family vehicle.
Convenience Combines with Comfort 
For many people, the 2022 Ford Explorer's comfy cabin is definitely its main selling point. We're not here to argue that point. However, we do want to draw some attention to the vehicle's other impressive features. The new Ford Explorer is also no slouch when it comes to providing convenient technology. The bullet points below contain more details about those technological features.
Sync 3 – The Sync 3 is the all-in-one tech hub for the 2022 Ford Explorer. Your passengers can use it to complete all kinds of tasks so work doesn't have to wait until they get home. The Sync 3 system is also compatible with numerous apps so feel free to customize it as you see fit.
FordPass – Are your kids getting restless from the long ride? In that case, allow them to use their favorite apps after they connect to the internet via the Explorer's FordPass feature. Once it's set up, the FordPass can act as a Wi-Fi hotspot for you and all your passengers. Up to 10 devices can connect to FordPass at a given time so everyone will be able to browse without any issue.
Wireless Charging – In your rush to leave on time, you may have forgotten to check how much battery life your phone still had. Learning that it's got barely any juice left can be distressing. Thankfully, you can use the Ford Explorer's convenient wireless charging feature to quickly power up.
The technological features of the 2022 Ford Explorer turn it into a more convenient companion. Take full advantage of those features while you're on the road.
Experience High-End Performance
The 2022 Ford Explorer delivers premium performance. Powered by the 3.0-liter EcoBoost engine, the new Ford Explorer generates up to 400 horsepower and 415 lb-ft of torque. The newest iteration of the Ford Explorer also comes with 10-speed transmission. That kind of transmission gives you complete control over the vehicle. Cruise along comfortably knowing that you are always in control. Rear-wheel drive is yet another addition that improves the overall performance of the Ford Explorer. Whether you're using this SUV on the road or some off-road trail, it will still handle like a dream. The Ford Explorer also gives you different driving modes to choose from. Up to seven driving modes are available and they are suited for varied conditions. Trail and sand/snow mode are terrific options for off-road driving while slippery mode is great for navigating slick surfaces. Sport mode allows the vehicle to be more nimble while tow/haul mode gives you some more oomph. Eco mode is the option to choose if you want to conserve fuel and normal mode is best suited for everyday driving. Experience the type of high-end performance the 2022 Ford Explorer delivers by picking it up at your local dealership today!