X-Plan Partners
Employer Partner Savings Program
Getting a new car can be a lot of fun but many buyers dread the confusing process of arriving at a fair price. With so much information about pricing on the internet, from so many different sources, it can be overwhelming to try to understand what is a fair price and what is not. Fortunately, for employees of select partners of Ford Motor Company, this process is made simple through the Ford X-Plan partner recognition program.
What is Greenway Ford, Employer Partner Savings Program?
X-Plan is preferred (invitation only) new vehicle pricing that is offered to select employees of preferred business partners of Ford Motor Company. X-Plan pricing is valid towards the purchase or lease of most new Ford vehicles.
Who qualifies for Greenway Ford, Employer Partner Savings Program?
Generally, employees (full time, part-time and contract), spouses and retirees of eligible Partner companies (suppliers, fleets, etc.) and members of specific organizations or groups may qualify for X-Plan. Residents of the same household as qualified employee are also eligible with proper proof of residency. Participation in this program is by invitation only as determined by Ford Motor Company.
What companies get Greenway Ford, Employer Partner Savings Program pricing?
There are nearly 3,400 partner companies that qualify for employee X-Plan pricing. At Greenway Ford,, we often assist employees of the following companies (currently or previously eligible) with X-Plan pricing: Walt Disney Company, Lockheed Martin Corporation, Siemens, Disabled American Veterans, Publix Super Markets Inc, Walmart, Universal Studios, UPS, SeaWorld, Delta, AT&T, Bank Of America, Shriner's Children's Hospital.
If you aren't sure if your company qualifies, Call Employer Partner Line now to see if you qualify at 1-888-832-6125.
How much is Greenway Ford Employer Partner Savings Program going to save me on a new vehicle purchase
X-Plan savings vary from vehicle to vehicle, however they generally remain constant as percentage of the vehicle cost. To help illustrate this point, an example is listed below. The information is correct as of 6-5-13. Because X-Plan buyers often qualify for rebates in addition to their X-Plan pricing, we have included rebates in our example for this truck. X-plan buyers can receive significant savings from MSRP.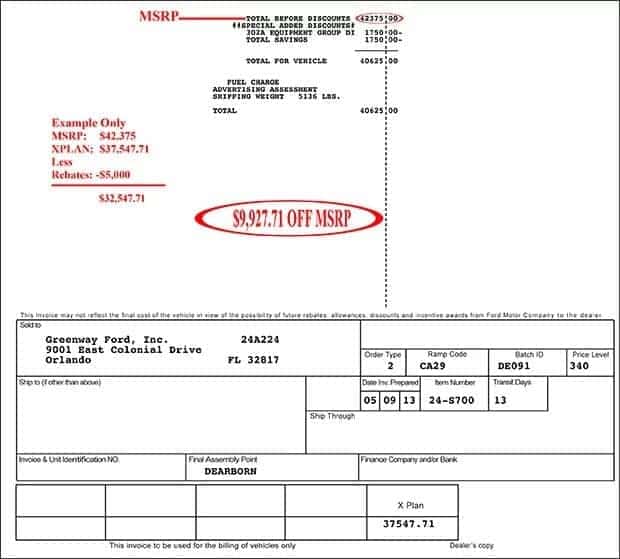 *Factory order required for A/X/Z/D Plan pricing thru 12/31/2021.