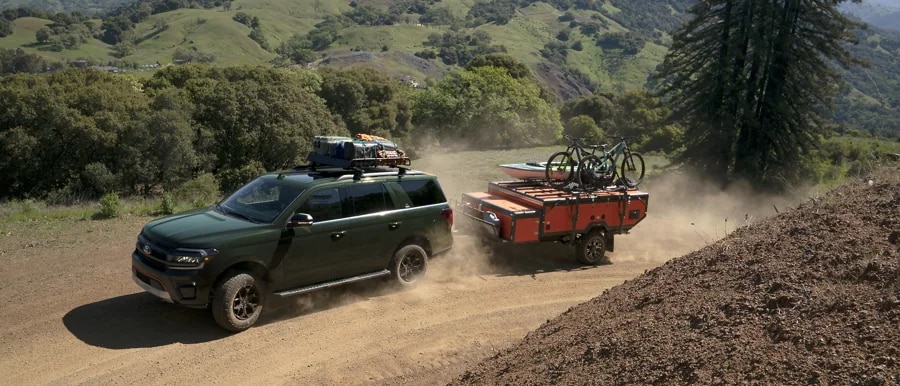 The Ford Expedition is a full-size SUV that's been powering family drives for years. However, if you're a Sanford driver who wants to go off-road, you'll love the 2022 Ford Expedition Timberline. It's built for off-roading, with a high-strength steel frame, enhanced springs and sway bars, and so much more. Are you ready for everything this rugged off-road SUV has to offer? Soon, you'll be able to test drive it with Greenway Ford. Hope you brought clothes you expect to get dirty!
The 2022 Ford Expedition Timberline: What to Expect
The Ford Expedition Timberline is a vehicle that's built for the trails, the mud, and whatever your off-road adventures can throw at it in Winter Park. It's still the Expedition you've come to love, but it's got a bunch of extra stuff inside and out that truly brings it up to the big time. What can you expect out of this monstrous full-size SUV? Here's just a few things:
An electronic locking rear differential and seven drive modes mean you're ready for anything. Switch between the various modes and you'll get an unprecedented level of control over the way you drive.

An engine typically reserved for the F-150. This full-size SUV has a lot of the genetics of the legendary Ford truck, including the high-strength steel frame built for towing, the absolutely massive touchscreen interface making its way to the all-new F-150 Lightning electric truck, and a 3.5L EcoBoost V6 engine that is estimated to produce 440 hp and 510 lb-ft of torque.

Dimensions that are built for off-roading. A 28.5 degree approach angle, 23.7 degree departure angle, and a best-in-class 10.6 inches of ground clearance mean you'll be able to smash that mud, sand, or whatever else with aplomb.
How Can I Get One?
The Ford Expedition Timberline has yet to reach car lots in College Park, so if you're looking for this rugged adventure machine, you'll want to pre-order it with Greenway Ford. We'll help you customize this vehicle as you see fit, from the trim package to the options to the color. We'll make the process of taking delivery of this vehicle a breeze.
The Future of Off-Roading is Ford
Now that you've gotten the 4-1-1 on the Ford Expedition Timberline, it's time to pre-order it with Greenway Ford. We've got a handy contact form that's just waiting for you to fill out, and when you do, an expert from our dealership will contact you with the facts on the Expedition Timberline. We can't wait for you to experience it!